2022 Hendrick Best Practices for Adult Learners Conference
The Hendrick Conference is a signature event of the Penn State Commission for Adult Learners. This year will be a virtual conference beginning at 11:00 AM EST each day on May 10 and 11, 2022 using the online platform Whova. The conference showcases best practices from Penn State and the BIG 10 community involved with supporting adult learners. Best practices come from classroom and online faculty, administrators, counselors, researchers, and other persons involved with making life more fulfilling for adult students.
Hear from experts in the adult learning field about research and best practices.
Track 1 – Recruiting and Retaining Adult Learners: Best Practices in Admissions and Recruiting, Academic Advising and Services/Other Support Services, Student Life, Career Services, and Veteran Affairs
Track 2 – Teaching Theory and Practice: Best Practices for Teaching Adult Learners in Higher Education
Keynote Speaker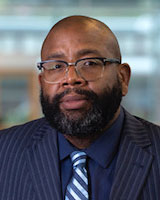 Dr. Keith Curry
President/CEO Compton College
Conference Dates
May 10 and May 11, 2022 beginning at 11:00 AM EST each day.
Cost
$50 by May 1
Agenda
Click here for the conference agenda (pdf).
Whova
The 2022 Hendrick Best Practices for Adult Learners Conference will be presented virtually through the Event App – Whova. Registered participants will receive instructions and the Whova invitation code closer to the conference date. The Whova invitation will be sent to the email address in which you registered.
Registration
Registration is open for the 2022 conference! Register online (with a credit card). Accepted credit cards are American Express, Discover, MasterCard, and VISA. You may not use your Penn State account to register anyone other than yourself. If you are registering someone else, an account must be created with their name and information.
If you are unable to register online, you may request a printable registration form. Penn State departments wishing to use SIMBA JE payment and/or group registration may request a group code by emailing noncredit@psu.edu to receive a Group Code Form.
Registration Fees
$50 Conference Participant until May 1
$60 Conference Participant beginning May 2
$ 0 Student Participant (fee waived)
Registration Deadline – Tuesday, May 10 at 5PM EST
Refunds
A $10 administrative fee will be charged for cancellations. Cancellation requests must be received in writing by emailing PSUconferences@psu.edu no later than Thursday, May 5 at 5PM EST.
Substitutions
Anyone who is registered but cannot attend may identify a substitute. Registration and full payment by the substitute are required to be eligible to register at the same fee. A full refund will be issued after the substitution registration has been completed.
Accessibility
Penn State encourages qualified persons with disabilities to participate in its programs and activities. If you anticipate needing any type of accommodation or have questions about access provided, please email Colette Rodger (cms324@psu.edu) in advance of your participation.
Contact Us
About Registration
If you have questions about registration, please contact:
Outreach Non-Credit Registration Office
8AM–5PM EST Monday–Friday
Phone: 814-867-4973
Fax: 814-863-2765
Email: noncredit@psu.edu (DO NOT EMAIL CREDIT CARD INFORMATION)
Credit card payments received by phone, mail and fax will be processed the following Tuesday when staff are in the office from 8AM – 12PM EST.
Additional Information
Conferences and Institutes
The Pennsylvania State University
Email: PSUconferences@psu.edu
Phone: 814-863-5100
Check back for updates or contact one of our co-chairs for more information: Ruth Ann Herstek (rah32@psu.edu) and Chuck Greggs (ctg4@psu.edu).
Thank you for the Hendrick Conference Committee Members
Charles Greggs – chair
Ruth Ann Herstek – chair
Michelle Wiley
Melissa Kunes
Brian Redmond
Elizabeth Tisdell
Kathy McCool
Colette Rodger
Wanda Bickle