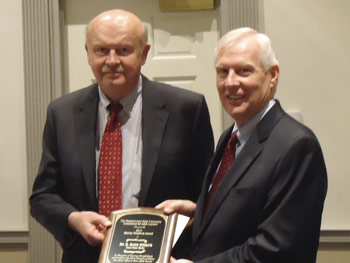 2012 Recipient
Dr. R. Keith Hillkirk
Chancellor, Penn State Berks
While chancellor at Penn State Schuylkill, Hillkirk helped bring together five campuses to collaborate in offering degree programs with the assistance of distance technology. The resulting Eastern Alliance of Penn State Campuses consists of Penn State Hazleton, Lehigh Valley, Schuylkill, Wilkes-Barre and Worthington Scranton. In fall 2010, the Eastern Alliance began offering a joint bachelor of science in business degree, with classes delivered by interactive video during evening and weekend hours and online.
"Like Shirley Hendrick, Dr. Hillkirk has been a true advocate of adult learners, including both credit and non-credit students," one nominator said. "He has demonstrated this support through innovative program development, the creation of a collaborative delivery system and hands-on involvement."
Hillkirk was a member of the University's Commission for Adult Learners in 2008-2009 and chaired the commission in 2009-2010. In 2010-2011, he co-chaired the Faculty Engagement Committee as it focused on a Faculty Senate recommendation that credit by exam and credit by portfolio be expanded. After serving as Penn State Schuylkill chancellor for six years, he was named Penn State Berks chancellor in 2011.
"Since joining the University in 2005," another nominator wrote, "Dr. Hillkirk has been a champion of adult education. His efforts as chancellor at Penn State Schuylkill, including appointing an adult coordinator and instituting our 30 Plus scholarship program, have resulted in a significant increase in adult students enrolling at the campus."
---