Penn State's Commission for Adult Learners is composed of faculty, staff, and students from several University locations. Members are dedicated to improving the adult learner experience at Penn State.
The charge to the Commission is to:
provide a visible University-wide body whose primary purpose is to contribute to a supportive climate for adult learners;
monitor the recruitment, retention, and satisfaction of adult learners;
advocate for adult learners' concerns by recommending changes in policy, practice, and procedures that impact adult learners;
foster coordination and information exchange regarding programs and services which attract and retain adult learners to Penn State; and
serve as a repository and facilitating body for adult learner–focused initiatives University-wide.
More about Penn State Adult Learners
---
Sponsors of the Commission for Adult Learners are
Dr. Renata Engel
Vice Provost for Online Education
Dr. Kelly Austin
Interim Senior Vice President for Commonwealth Campuses and Executive Chancellor
Dr. Yvonne Gaudelius
Vice President and Dean for Undergraduate Education
Andrea Dowhower
Interim Vice President for Student Affairs
Dr. Marcus Whitehurst
Vice Provost of Educational Equity
---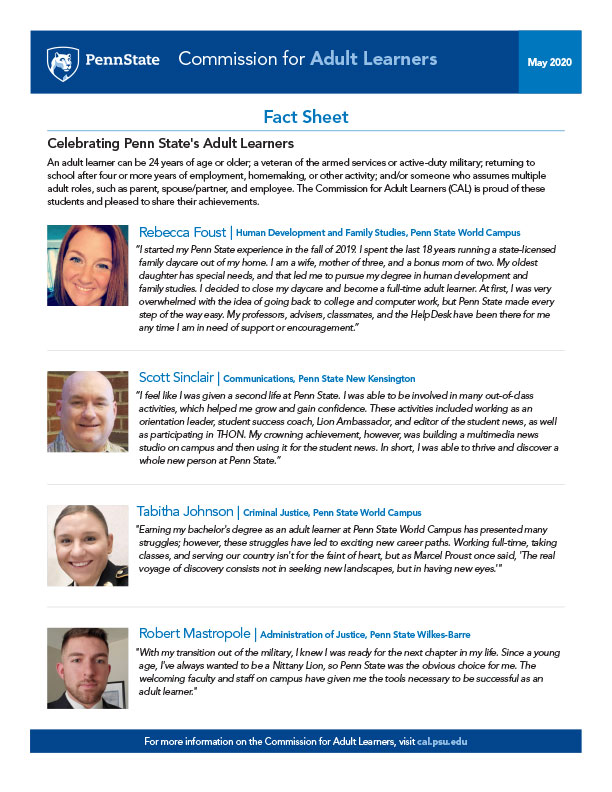 Fact Sheet
Adult Experience Coordinators
In 2006 the role of Adult Enrollment Coordinator was created. Each chancellor was requested to choose who best would fit the role so that periodic meetings could be held to discuss specific adult learner initiatives, focusing at the time on recruitment and retention strategies. However, over the years, the role evolved to be a more holistic approach to the adult learner experience. As such in 2019 the positions were renamed Adult Experience Coordinators.
The individual(s) selected for this assignment should be familiar with admissions, student aid, registration, and advising processes for adult learners; be knowledgeable about the campus's resident instruction, continuing education and online offerings to provide a smooth transition for these learners. The objective is to build a council of Adult Experience Coordinators (AECs) who will help to build a cohesive adult learner enrollment component at every campus.
Annual council meetings are held to share adult applicant and enrollee information, discuss current state-wide adult learner initiatives that include prior learning assessment, credit acquisition, and service area-specific workforce needs in addition to the overall recruitment and retention issues of our adult learners.
Current campus AECs:
| | |
| --- | --- |
| Abington | Randy Ingbritsen |
| Altoona | Debbi Flaig |
| Beaver | Debra Seidenstricker |
| Berks | Kathy Cavanaugh |
| Brandywine | Margaret Bacheler and Dennis Mejias |
| DuBois | Tharren Thompson |
| Erie-Behrend | Biddy Brooks |
| Fayette | Dean Julian |
| Greater Allegheny | Dave Davis |
| Harrisburg | Amanda Moore |
| Hazleton | Allen Koehler and Tammy Spevak |
| Lehigh Valley | Melissa Baker and Marta DaSilva |
| Mont Alto | Helen McGarry |
| New Kensington | Ruth Ann Herstek |
| Schuylkill | Travis Williams |
| Shenango | Charles Greggs |
| World Campus | Bill Fritz |
| University Park | Leslie Laing |
| Wilkes-Barre | Dr. Janine Becker |
| Scranton | Matt Nied |
| York | Erin Nelsen |
Prior Learning Assessment Website
The Commission for Adult Learners funded the development of a Prior Learner Assessment (PLA) web site, PriorLearning.psu.edu.
This site aggregates all information about PLA from across the University and serves as a single point of entry for students, faculty, and staff seeking information on prior learning assessment at Penn State. In addition to policies and procedures, it will provide students with information intended to help them determine if PLA is a viable option for them and, if so, the steps they need to take.
Under the leadership of Dr. Michele Rice, director of Prior Learner Assessment, the Commission provided insightful contributions to the site's development. Increasing awareness and implementation of prior learning assessment opportunities helps our students realize both access and affordability, which helps us realize our mission of improving the adult learner experience at Penn State.
Penn State News article with additional details is available here.
Financial Literacy
In 2015, the Penn State Commission for Adult Learners sponsored the creation of a financial literacy website to promote financial literacy knowledge to students, parents, stakeholders and the Penn State community. The Penn State financial literacy website went live in May 2015 at financialliteracy.psu.edu.
The website hosts all the recorded and archived workshops and webinars that were previously developed under MoneyCounts: A Financial Literacy Series, and provides connection to the Student Financial Education Center to promote the peer-to-peer program at Penn State.
At the same time, a departmental email of finlit@psu.eduwas granted for the website and for office use to facilitate communication with users. Google Analytics was added to the site to monitor visitors and extract relevant information. In the first 2 weeks of the site going live, 1,849 visitors viewed the page with the highest percentage of 35.5% of visitors' ages between 25 and 34. Even though the website offers a wealth of information and resources on financial literacy, a plan to create self-study modules is under construction to provide a value- add interactive site for users, specifically online learners, to sharpen their financial literacy skills and knowledge at their own pace.